About the Teacher Victor Chng
Victor has been practising yoga since 1999. His main motivation to teach yoga comes from wanting to bring healing to all people. Victor met Paul Grilley - the founder of Yin Yoga in December 2004 and has completed a teacher training with Paul in Yin Yoga and Anatomy for Yoga. He continues to study with Paul and also Sarah Powers and completed 100-hour residential yoga teacher training programme with them in San Francisco in Feb 2007. Victor is greatly indebted to his teachers for giving him permission to teach Yin Yoga and he continues to explore this path with his own intuitive knowledge.
As Chinese by birth, Victor is highly inspired by the ancient Chinese art of healing such as The Yellow Emperor Sutra, I-Chng, Taosim, Buddhism and Confuciusim. His teaching goes beyond looking at the body as a muscular-skeletal structure. To Victor, it is important to view the body asan embodiment of energies and consciousness. He seeks to open every layer of his being in his practice and imparts the same view to his students. Integrating Yin & Yang energies is what he views as the holistic path to bring oneself back to the centre. Finding the right balance in one's lifestyle that supports every aspect of one's life forms is the core of his teaching. Victor is able to simplify and systematically teach students the ways to practise effectively and progressively in the journey of yoga. In his teaching, you will find the four pillars of paradigm shift on viewing yoga, adopting a new approach in engaging the practice, and behavioural change and transformation of consciousness.

Since 2005, Victor has been teaching Yin Yoga successfully all over Asia. He has trained more than 500 teachers in Singapore, Malaysia, Thailand, Indonesia, Japan, Hong Kong and China. Victor is also the founder of www.yinyogainasia.com. You may contact Victor at +65 98260088 or email This email address is being protected from spambots. You need JavaScript enabled to view it. .
---

After an unfortunate injury Kristine Marie Rost changed her life from a career in Human Resources and Project Management to a career in YY (Yin Yoga) and restorative yoga; this is where she finds healing and strength. A passion for both forms of Yoga was created, and Kristine now combines them with therapeutic Yoga into her YY. Kristine is one of the pioneers in Yin Yoga in Denmark, having chosen Yin Yoga as her specialty. Today she teaches regular YY classes for both beginners and other Yin teachers at the 'Yogacentralen' and the Rehab.

Today, Kristine is a YY champion teacher and assists the leading YY teacher of Asia, Victor Chng, at his YY teacher training sessions in Singapore and Denmark. Kristine has taught YY since 2011.

While in Asia on a 2-year stay she worked as a YY therapist in one of the world's 20th best hospitals in close cooperation with doctors educated in both Western and Chinese medicine. She managed to develop this experience even further in close cooperation with the Rehab, a treatment and training center in Copenhagen. Kristine has taught at several reputable centers in Copenhagen, and she is known to travel across the country to hold workshops, as she wishes to spread YY to as many as possible in the whole country. She helds YY retreats in Portugal in May and September and in 2016 she will be teaching YY in an Australian YTT in Cambodia. Kristine represents YY for the 4rd year in a row at the annual Copenhagen Yoga Festival and she is part of the teaching staff at the large DGI inspiration conventions for hundreds of instructors.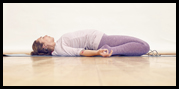 Kristine's professional background as a YY instructor is a.o.: - Specialist in Yin Yoga therapy with more than 800 hrs. of training in pure Yin Yoga (by mainly Victor Chng, storytelling level 3 with Biff Mihoefter and a few workshops with Sarah Powers) - Prevention and healing of sports injuries - 500 yogatherapy (YAL), Certified in Restorative Yoga, Senior Yoga and Yoga for women who have undergone breast cancer surgery, 100 hrs. (YAL) - Certified in energetic responsibility - NLP certified, masterclass in industrial psychology and integration consultant - Studies TCM (traditional Chinese medicine), Taoism and life Kristine's zest for life and her caring and radiant personality with a natural ability to make people feel comfortable is characteristic of her as a person and her journey as Yin Yoga instructor. Experience the quiet side of Yin Yoga and the effects and benefits to body and mind throughout her classes.

Practicing and living Yin Yoga has given Kristine the ability to be herself and to live life with a lightness without the burdens of old feelings and sentiments. Kristine's life with Yoga completes and complements her life, gives her an ability to live fully with all the ups and downs that life has to offer.

"Yin Yoga strengthens the ability to look at the beauty of life even on a rainy day. So let's look for rainbows." - Kristine
---

Dona Tumacder-Esteban is a stress and energy management consultant, yoga therapist and educator, a breathwork and movement teacher, an Integrative Wellbeing and Nutrition Counselor, and a women's health advocate – all these on top of being a wife and a hands-on mom. Aside from her degree in Business Administration from the University of the Philippines and a Masters in Business Administration from the University of Western Australia, Dona has completed a course in Holistic Health Counseling with the Institute for Integrative Nutrition and holds a NCFE accredited Level 4 Diploma in Personal Nutrition.  She is currently a student of Traditional Chinese Medicine.  Dona is the resident Yoga Therapist and Integrative Wellbeing Counselor at the St. Luke's Medical Center Complementary Medicine Services (BGC).
Dona's journey began with movement as a form of meditation in 1999 and Yoga in 2000. In 2010, she experienced Yin Yoga and a deep transformation began not only in her body but also in her mind and life.   Dona's practice and teaching centers on Yoga as a healing practice that has affects not only the body but also one's mindset and behavior. Dona has received more than 250 hours of Yin Yoga training with Victor Chng who has been mentoring her in Yin Yoga and Yin Therapy, specifically on women's health issues, since 2010. Dona is passionate about educating women specifically on their monthly cycle and shifting society's perspective about the period (and other gender-related issues) so that healing happens in both the individual and the collective. Dona is collaborating with Victor in developing and co-teaching Women's Health Programs.
Currently, Dona gives workshops in the Philippines, Singapore, Malaysia, and Thailand.  She also assists Victor in Yin Yoga in Asia's Teacher Training Programs in Singapore and in Manila.
As a complement to her work in therapy, Dona has pioneered corporate stress and energy management in Manila using both Eastern and Western techniques to help manage stress in the moment. In 2003, she co-founded OneSpark, Co. promoting practical spirituality in the workplace through integrated, innovative, and fun wellbeing and team development programs.  Today, Dona travels extensively in the Asia Pacific Region to share energy management and work-life integration courses.  Her ability to integrate wellness, spirituality, meaningful work, and personal transformation, making it relevant in the corporate world, has brought many people more clarity in aligning to their life purpose.
---
Lek Kittikunadul was born and raised in Bangkok. He finished his first degree in Industrial Design at Rungsit University in Bangkok in 1991 and subsequently went to the US to further his study. He had gotten a master degree in Computer Art at The Academy of Arts University in San Francisco, USA. Lek's first experience in yoga was when he was living in the US. He started his practice at the Integral Yoga Institute in San Francisco in 1995 and fell in love with it right away. 
After the death of his partner, he decided to follow his heart to go to India and completed 200 hours Teacher Training at Sivananda in Uttharakashi. He stayed in northern India for 6 months to experience different yoga styles. His biggest turning point in his life was when he met Victor Chng who inspired and trained him to become a skilful Yin Yoga teacher. His teaching is also influence by other teachers including Sarah Power, Angela Farmer and Victor Van Kooven and Paddy McGrath.
Lek currently lives at Chiang Mail. He teaches and co-owned Wild Rose Studio in Chiang Mai. Besides Chiang Mai, he also travels for his teaching, including different major cities in Thailand and Europe. Yin Yoga is the hallmark of his teaching and had allowed him to become an international known teacher.  He teaches and conducts Yin Yoga workshops, short courses and retreats around Thailand, Philippines and many parts of Europe, such as ASVZ (Akademischer Sportverband Zürich) in Zurich, Switzerland, www.asvz.ch. His teaching focuses on body awareness and deep opening on major joints fascias and the flow of Qi in the body.  In his classes, he shares with his knowledge on physiology and anatomy of connective tissues.  He also incorporates yoga philosophies, spiritualism, energy works, subconscious re-modelling and Traditional Chinese Medicine.
---